---
Creating a webinar is an exciting process for marketers. It presents new ways to attract leads, drive conversions, and present your brand.
But you can't simply traipse into a webinar unprepared. At MeetingOne, we've helped companies put on hundreds of webinars – and we've put on dozens of our own. In our experience, practice does make perfect.
So, let's the basic elements you need for your webinar:
Compelling topic geared toward a target audience? Check. 
Engaging speaker with the right background? Of course. 
Outline of the topic in your slide deck? Done and done.

If you have all of these, it's time to begin rehearsing for your webinar – and start your webinar storyboarding process!
---
The webinar's first dry-run should take place roughly 2-3 weeks out from the actual webinar. Allot at least one hour of time to storyboard, but more if you're new to webinars.
Plan on holding at least two more dry-runs after this one:
A lot hinges on the success of this first dry-run. You'll need to:
Build out your webinar storyboard
Define the tone for your presentation
Make sure you are on the same page as your speaker
Continue working on the design/transitions
Satisfactorily organizing all of these factors comes back to one thing: having an effective agenda prepared for your webinar dry-run.
---
Shaping Your Webinar Storyboard:
Webinar Dry Run Agenda #1

Here is our overview agenda you can copy into your meeting invite. Theses steps are explained in more detail below!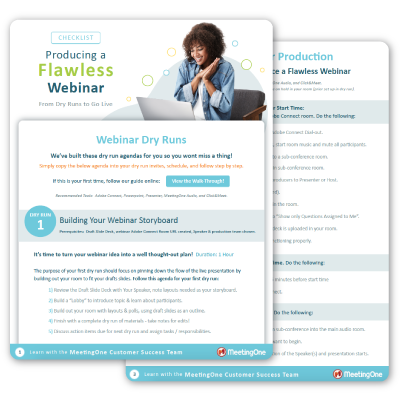 How to use this Webinar Dry Run Agenda
Sure, you have the webinar agenda of what items and topics need to be addressed. But why did we here at MeetingOne select these points? I'm going to take you through each bullet to expose the value, purpose, and method to achieve the best results!
Please note that many of our suggestions hinge on a big factor: We use Adobe Connect for Webinars
We believe Adobe Connect offers the most immersive experience for our audience, so we use it for every webinar we host. Not all webinar platforms share the same feature set, and Adobe Connect tends to offer more functionality than its competitors.
When we talk about updating Layouts or changing Poll questions below, these are references to Adobe Connect. Layouts can't be changed in Zoom, Webex or GoToWebinar.
---
#1. Review the Draft Slide Deck with the Speaker



Reviewing the slide deck with your speaker is priority number one. You need to share your vision for the webinar with your speaker while tackling the key points of the topic at the same time.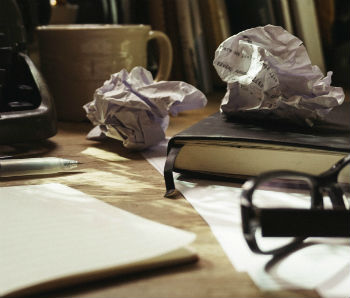 Discussing the slide deck allows you to dive into the collaborative process of advancing your webinar storyboard.

Take this time to evaluate the following:
Do the main talking points follow the general purpose and theme of the webinar?
How are you planning to make the presentation engaging? Are you interacting with your participants every 2-4 minutes?
What points need to be expanded or further explored? Can this be solved in a takeaway or the presentation?
What is the end goal of this webinar? Does the content encompass this? Should anything be cut?
Put yourself in your audience's shoes. Will the flow of the presentation feel natural? Will it involve them appropriately?
Once you've considered these things, you're good to proceed!
 (Jump back up to the agenda, or keep scrolling down.)
---
#2. Build a Lobby
Build the Lobby during your first webinar dry run so you can discuss design and purpose with your speaker. Determining what you both want your audience to see and react to upon entering the room helps create a better Lobby. Use this layout as a way to get your audience in the right mindset before your presentation.
Constructing the right lobby for your webinars can have an enormous impact on the event's success.  If your "Lobby" is nothing more than a PowerPoint slide, your attendees may be put off from the start. Use this as an opportunity to learn things about them and gain insight on if your presentation aligns to what they have come to expect.

Consider asking 2-3 questions in your Lobby to find out things such as:
Are they clients, students, prospects, etc.?

What is their title? Industry? Company?

What are they hoping to get out of today's session?

What are they excited to learn about most from the session?
Many webinar platforms don't offer actual lobbies (usually there is just a PowerPoint on the screen share and maybe a webcam…boring). Adobe Connect makes it very easy to construct and design winning webinar lobbies so that you can start your webinar off right! Check out the example below.
To build an engaging Lobby, include the following components:
Placing a Poll and/or a Chat (or several) in your Lobby is key. Both options can serve to get participants engaged early, help introduce them to the larger topic, and give you some background on your audience's expectations of the event.
Don't keep your audience in suspense. Place a timer in your Lobby so they know when the webinar begins. (Oh, and stick to that time.) Talk to our Product Specialists about the Countdown Timers offered by Adobe Connect.
Feature a Q&A option in the Lobby so your attendees know they can ask questions at any time.
You can always add interactive elements like games, too!
(Jump back up to the agenda, or keep scrolling down.)
---
#3. Build out Layouts Following the Draft Slides
Your webinar should be designed to engage. One the best aspects about Adobe Connect is that the platform allows you to build unique layouts for every section of your webinar. The layouts can be fitted with topic specific pods and designed to drive interactions.
(Best practice tip: incorporate interactive elements every 5-7 minutes!)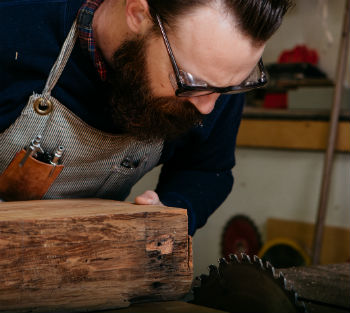 Once you've agreed upon what you want to share on each slide, build out layouts with your speaker that tie into the slides. Layouts should follow a descending order and be titled to match the starting slide they go with. You will also want to place new polls and chats that will drive engagement. Agree upon questions you want to pose to your audience, then work with your speaker to come up with answers for your Polls.

(Jump back up to the agenda, or keep scrolling down.)
---
#4. Dry Run Through Materials and Notes
With your slides and layouts developed, dry run through stages of your presentation. Talk through each point, review the formatting, and make sure you agree upon the direction of the presentation.
Thoroughly working through the entire webinar at this stage will help you identify any weak points that may need to be revamped. 
Also, use this time to determine if you or your speaker needs additional training with your webinar platform.

(Jump back up to the agenda, or keep scrolling down.)
---
#5. Discuss Event Takeaway



You want to thank all of your participants for attending, so you provide them with, essentially, a gift – an event takeaway. The event takeaway is similar to a party favor. It's a symbolically kind gesture that your audience will appreciate.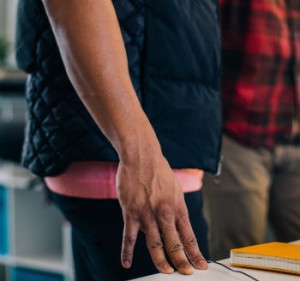 At MeetingOne, we typically give away the following:
eBooks

Infographics

Whitepapers

eWorksheets
Of course, you can provide several takeaways to your attendees. (We regularly offer our participants 2 takeaways.)
Takeaways should be crafted to complement or expand upon the topic discussed during the webinar. 
It should also provide your attendees a practical resource. For example, we created an "Audio Options Checklist" takeaway for our webinar, "Audio Matters! Turn Your Engagement up to 11!"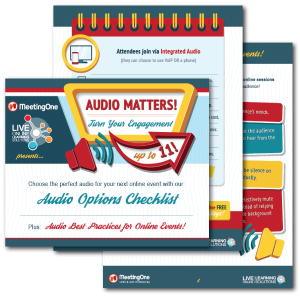 This example checklist has two functions:
It serves to remind readers of the audio options they have available for improving online events, as were discussed during the webinar.
It provides a reader an interactive resource they can refer to when evaluating audio conferencing providers.
It's important to discuss the takeaway during the webinar storyboard phase because it can take a lot of time to prepare and finalize. Maintaining the focus of your webinar and carrying it through to your takeaway is essential for a unified experience for your audience.
Allow enough time to develop a takeaway from the start.
(Jump back up to the agenda, or keep scrolling down.)
---
Preparing for the Next Webinar Dry Run
Concluding the first webinar dry run doesn't necessarily mean the work is done. Before you hold your second dry run, make sure you've completed the following webinar related tasks:
•  Continue Drafting Your Slide Deck
Before your second webinar dry run, it is essential to have 90% of your slide deck drafted.
---
• Upload Content into Your Virtual Room
Being able to see how your webinar will look is immensely valuable.  Slide deck, videos, photos, documents, games—give your content a home in your virtual room.
So you know, this only works if your virtual room persists through time.  So, if you're using, WebEx, GoToWebinar, Zoom—anything besides Adobe Connect, really—you're out of luck.
---
• Create Webinar Takeaways
Begin prepping your webinar takeaways. As stated above, takeaways can take a while to create. It's important you start your work on them ASAP.
---
• Prepare 3 Webinar Invitation Emails

Per MeetingOne's best practice recommendations, we would advise you to send out your first invitation email two weeks before the webinar.  Send out a second email a week before.  About twenty fours before the webinar, we would advise sending out a reminder to your contacts.
Learn how to craft the best webinar invitation emails! Read our blog, "Nailing the Webinar Invite to Drive Attendance."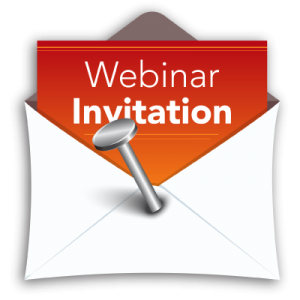 ---
As you get closer to your webinar, it's essential you figure out who is going to help you produce the event. It's advisable to have a supporting cast of three or more for any webinar. Of those in your team, you will certainly need at least one person who can manage the technical aspects of your webinar production.
If you'd like help with your Adobe Connect webinar, check out MeetingOne's webinar production services.
MeetingOne can help you manage the technical and logistical side of your webinar, while you focus on the content!

---
 We share with you the necessary steps for sprucing up your presentation.  We will help you start preparing some technical aspects of your webinar, as well as guide you through a full dry-run.

---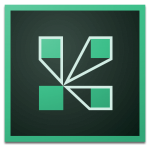 If you're interested in hosting more engaging and immersive webinars, maybe its time to step up to Adobe Connect Webinars!
We can create a solution for you that pairs Adobe Connect with training and production assistance!
---

Tips, tools, and tricks – everything you need for your webinars, just subscribe to our blog!
---

This blog was originally published on February 7th, 2017.