---
The time has come to move your training programs forward into an interactive virtual classroom. But the big question is, what virtual classroom software is right for your goals?
As I'm sure you've come to realize, investment in virtual classrooms is very important for several reasons. It adds a more dynamic element to eLearning and on-demand learning. It helps companies achieve the power of training a global workforce. And it is also a significant investment in both a team's time and budget. Therefore, making the right choice is critical.
So, you've put the research hat on to find THE BEST of the best! You've googled reviews and asked colleagues for recommendations, each source giving you a different platform to try out. And as your list narrows, you've come to the point where you are ready to reach out to your top contenders for the final stages of your big decision.
That's right. It's time to get demo-ing.
Seeing the application in action is arguably the most critical part of selecting a virtual classroom software. It helps you picture your courses and how engaging the content will be; what information you can report on; how your program might work overall; and how any of this might be impacted if a platform does not work how you intend to use it.
Demos are a fantastic way to get into the platform with a Product Expert:
It saves you time – seeing a platform helps connect the dots from what you've read so far, speeding up how fast you can decide what virtual classroom product is the right choice for your team.
It gets you a personalized overview – tell the product expert your goals. They should tailor the demo to speak specifically to how you will be using the virtual classroom software and show you only the features that matter to you most during your limited time together.
It helps you think outside the box – speaking with a product expert should give you the experience of speaking with a consultant. Count on them to know best practices and what's hot and new, they may have innovative ideas to push your trainings with modern platform features and inspire you to get started.
And, best of all,

it helps you get ALL your questions answered.
However, knowing WHAT questions to ask to get the best platform for your team on the market can be challenging to pin down. Not asking the right questions can lead to an information-lacking demo, or worse, choosing the WRONG virtual classroom software.
Our product experts came together and asked themselves, "How can we help trainers get the most out of their virtual classroom software demos?"
With meaningful questions so important to the decision-making process, our team brought 20 years of demo-giving knowledge together to pin down the top items to ask during a virtual classroom demo.  We believe that by asking these questions Trainers, Training Managers, and L&D Execs will make better use of their demo time and come out feeling better informed and confident in their decision.
No matter who you are talking with, be sure to ask these questions!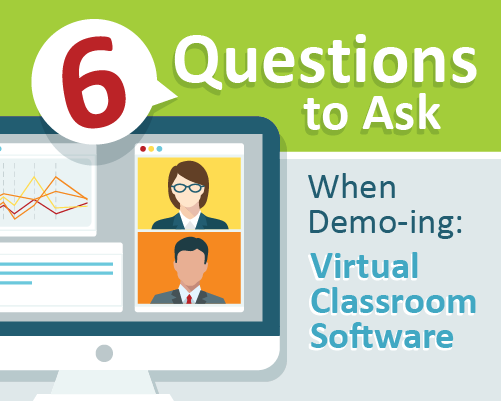 ---
6 Questions to Ask in a Virtual Classroom Platform Demo:
Note: Jump to the question that most interests you by clicking on it 😉
---
Demo started? Great! Here's a question you'll want to know right off the bat to make sure this platform can showcase your program and make it memorable above the rest:
What Options are Available for Room Branding & Customization?
Before a trainer ever sets foot, so to speak, in their virtual classroom, they will have a sizeable amount of work to do in terms of content preparation. This includes developing: presentation slides; content related to questions asked during the session; polls they may want to facilitate; and other ways they will engage learners.
All too often, little consideration is given the virtual setting itself. Designing a virtual classroom to facilitate learning is in many ways as critical as the above factors. Defining a virtual classroom space comes back to branding and customization, and just about any conversation related to virtual classrooms should start here.
---

"Most of the training managers I assist expect branding to be part of the platform they use. That's why I stress to them the importance of considering customization options as well. Customization takes the experience to the next level."
–Matt Drew, MeetingOne Product Expert
---
Branding and Customization Options Vary Widely
Branding is the simpler of the two categories. Most platforms we've seen allow users to add a company's brand to the virtual classroom format. Maybe it's the option to place a company logo in the top corner or as a background. Some allow menu bars and text colors to be refined to brand specifications. However it works out, branding reinforces the company's presence in the virtual space. The result is a more professional, well-defined setting.
Customization is a very different matter. The idea behind customization is to shape the virtual classroom to meet training needs. And it involves rearranging the entire room format (if a trainer chooses to do so).
Customization is far less common. Providers like Skype for Business and GoToTraining are rather rigid. The chat, screenshare, and placement of webcams are fixed. For GoTo, polls are populated in slides.
Webex and Zoom are only slightly better. They allow you to minimize certain features (like chats) or introduce polls separate from the presentation. But this is customization in a very limited scope.
We've found that only Adobe Connect allows true customization. The entire virtual classroom, from top to bottom, left to right, can be formatted to a trainer's needs. Each module in the virtual classroom (be it a chat, poll, or screen share) can be sized and moved. This allows trainers to build virtual classrooms that complement the material they are training on. It also provides exciting ways to stimulate engagement!
Think about this example: Concurrent polls. In Webex or Zoom, polls can only be run one at a time. In Adobe Connect, a trainer can place multiple polls side-by-side. Doing so increases engagement in a meaningful way.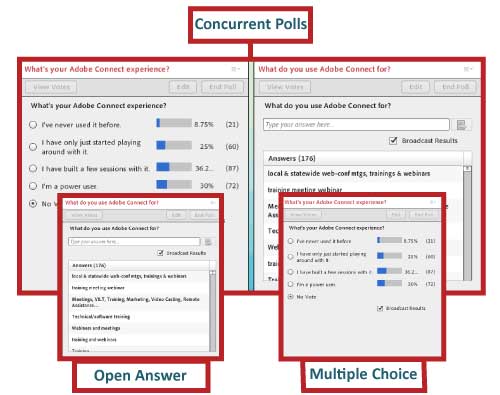 Adobe Connect also features multiple Layouts in any given Virtual Classroom. (In fact, trainers can create as many Layouts as they could possibly want.) Each Layout can be shaped to the trainers need. One could feature only a screen share for lectures; only webcams for group discussions in another. A third could incorporate both and a chat for a blend of presentation, engagement, and collaboration!

These Layouts can be transitioned between to create a logically flowing training session. Here's an example of transitioning between layouts from one of our webinars.
Adobe Connect's customization is unrivaled. Watch the video example above.
---
How Does Your Platform Engage My Learners?
Virtual classrooms and live online training thrive because of the engagement opportunities they present. You take them away, all you're left with is the live taping of a future on-demand recording. That's no fun.
---
"I always try to communicate with trainers the importance of engagement during online training. Studies show that people are more likely to retain information when they are engaged.  You need a dynamic engagement feature set to drive that participation."
–Kim Poulter, MeetingOne Product Expert
---
Engagement in the virtual classroom entails a large number of features. These features are designed to spark learner interactions. Chats, polls, file shares, and whiteboarding are the most common. When you ask a product specialist about their engagement features, be sure to nail down which features are truly geared to creating participation.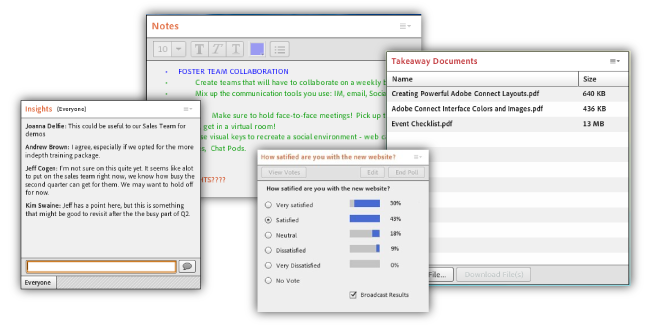 The simple fact is that all platforms are not created equal. Those geared toward screen sharing (Skype for Business in particular) often feature just a chat. Platforms focused on an immersive experience, like Adobe Connect, go as far as to provide custom features – explore Adobe Connect custom pods!
As noted above, polls are available in many platforms. Only, they are limited in the number that can be used at one time. Adobe Connect, on the other hand, allows for simultaneous polls (and chats), and these polls can be defined by three options: Multiple choice, short answer, or multiple answers.
File sharing is an unexpected challenge. Certain platforms simply don't have a file share (Skype), while others make use of the chat to pass out documents. Nothing wrong with using the chat, but documents have the potential of getting buried during a discussion.
Adobe Connect features file sharing in a unique module, the File Share pod. Trainers can name the document they are sharing, and learners can click on it for an easy download.
Whiteboards provide an interesting engagement tool. They can be used for group collaboration, as learners can draw, write, or add shapes to a whiteboard.
The top two are Zoom and Adobe Connect. Both feature a robust number of drawing, shape, and text tools. Both allow users to select from an extensive range of colors to use.
Both also feature mirroring functionality for their annotation offering. A screen share can be paused and used to snapshot the image. A trainer can then open it up to the group and allow them the freedom to annotate as desired. These altered images can be exported as needed.
Adobe Connect takes this functionality a step further. Documents, such as PDFs, can be uploaded into the Screen Share Pod. Annotations can be made to the doc, which can then be exported, as well. Uploading is not available in Zoom.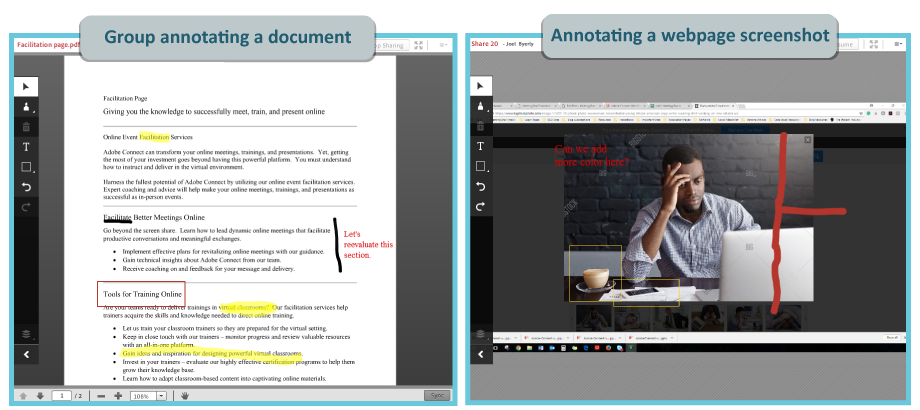 (Uploading eliminates bandwidth annoyances related to screen sharing a document or file.)
---
The engagement question must consider one other factor: How is engagement tracked?
Engagement tracking is critical to trainers. It provides the best resource for assessing the effectiveness of in-session delivery and the overall content quality. Engagement should entail any number of things: Activity in chats, responses to polls, selection of statuses, and so on.
Here's the bad news: Many platforms are coming up short on this front. Some (Skype, again) do not offer engagement tracking of any kind. And the others (Zoom, GoTo, and Webex) have a limited representation of engagement. They score engagement based solely on how long the virtual classroom window is the primary window on a screen. What if someone falls asleep with the window open? That's the ultimate form of disengagement, yet it won't be accounted for in their calculus.
Here's another place where Adobe Connect excels. Their engagement tracking incorporates a slew of factors. Yes, the time the virtual classroom is the primary open window counts. So too do mouse-clicks, status updates, sent chat messages, poll responses, and just about everything! Each has its own point total, so some interactions (like chats and polls) score higher than do mouse-clicks.
During sessions, trainers get a live look at their engagement with the "Engagement Dashboard." The gauge shows how engagement is doing at any given time. This dashboard is hidden in the Presenter-Only Area. We love this tool for our webinars!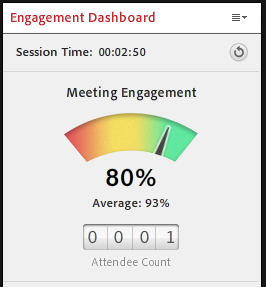 Critically, the engagement score of an individual will degrade the longer they are disengaged. This comes in handy because individual learner's engagement scores are represented on the Attendee List. A green marker indicates high engagement; average engagement by yellow; and low engagement, red.
That sleeping participant? You'll be able to ID them and call on them!
The engagement tracked in the room is reproduced in easy to understand graphs in post-event reporting. These reports also detail poll results and can be used to assess individuals' level of participation. Coupled with course completion in an LMS, you get a detailed picture of learner engagement with courses.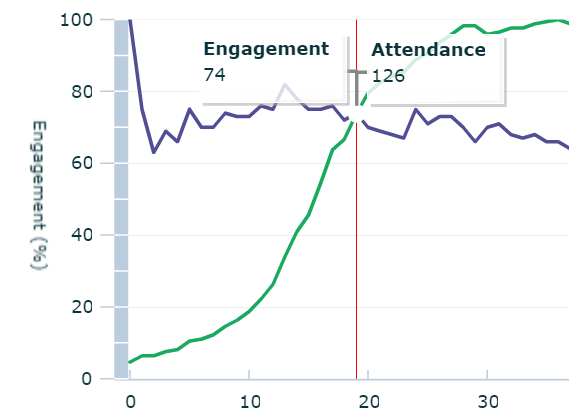 Adobe Connect is the leader in engagement and engagement tracking.
---
What Options are Available for Group Work & Collaboration?
Learners, more and more, are driving training. LMS providers are meeting this need by incorporating social learning functionality and discussion boards. In the online training space, group work and collaboration achieve a more learner-centric end.
---
"Collaboration has become a huge part of online training. People want more than lectures and PowerPoint slides. That's why I emphasize the importance of integrating collaboration tools, like Breakout Rooms, into training sessions."
–Kyle Slavin, MeetingOne Product Expert
---
When you talk to a product specialist about collaboration options, focus your questions on one primary feature: Breakout rooms. Breakout rooms are sub-spaces within the virtual classroom, each one separate from the main room but not in an entirely new space. They are ideal for group work and collaboration, allowing teams to discuss materials without the trainer's immediate oversight.
During the demo, ask about breakout rooms. While in use, see how easy or hard is to open the separate spaces, and how quickly participants can be moved around. A Product Specialist should make this look easy. Be sure to figure out how many breakout rooms can be created. Skype for Business offers exactly zero. (Noticing a trend with SfB? Not quite ideal for training, is it?) Adobe Connect comes in at 20, and Zoom is the leader with 50.
The real difference between Zoom and Adobe Connect returns us to customization. While Zoom breakout rooms feature their normal set of features, Adobe Connect allows these separate spaces to be customized – just like the main room. What's even better is that Adobe Connect breakout rooms can be prepared before a session and will continue to exist unaltered before, during, and after the session. This is because Adobe Connect rooms persist through time. (We'll get more into persistency below.)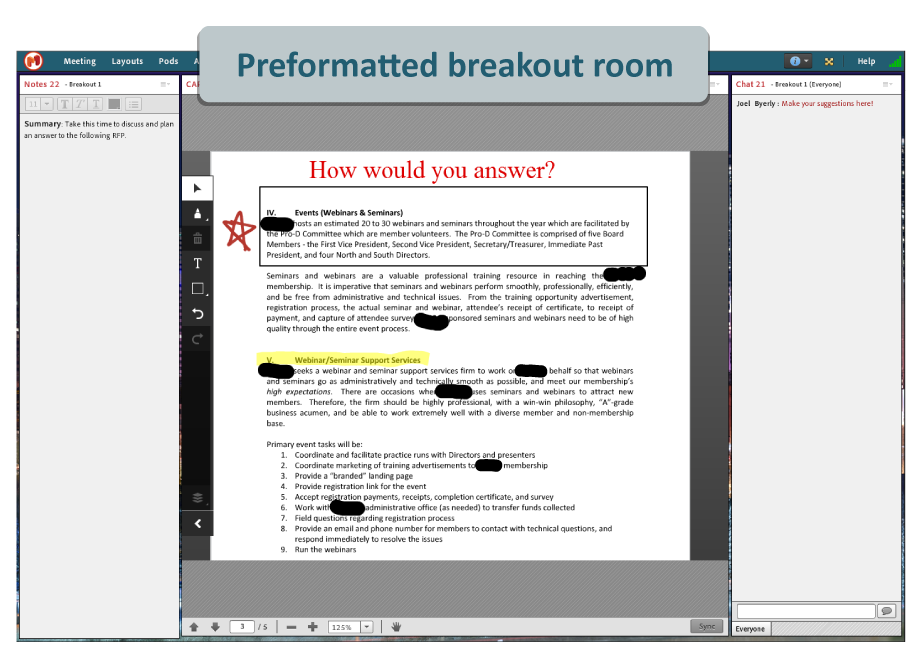 In the above example, we see a breakout room formatted to drive group collaboration by editing a document. The users were able to annotate the PDF. The same type of functionality is available for whiteboards and annotating slides.
When learner-driven training is central to a company's goals, breakout rooms are the best option for collaboration!