---
The enterprise LMS market is saturated with options. In G2's latest assessment of "Corporate LMS Software" providers, 45 platforms were considered. 45!?! With so many companies competing in the same sector, you'd imagine that trainers would be able to use any platform and be set. Right?
The truth is not so simple. Enterprise training continues to present trainers difficulties that many find exhausting. If you read just a few articles, you'll find trainers discontent with issues like platform agility, course roll-out, and learner management. But there's reason to be excited!
In this blog, we consider what a trainer both finds frustrating and desirable in an LMS used for enterprise training. Then, we consider how one of the Leaders from that G2 Report is tackling these issues: Adobe Captivate Prime.
---
A Trainer's Insight into a Great Enterprise LMS
Hayley Lloyd, a regular contributor to the eLearning Industry, explored some of the difficulties many face. We explore them below, along with some of the functionality she and other eLearning experts want from their LMS.
LMS Hold-Ups for Enterprise Training
#1. Often, LMS platforms are really old tech
The reference standard for an LMS remains the Shareable Content Object Reference Model (SCORM), specifically, SCORM 1.2. To put it simply, SCORM 1.2 is old, like 2001 old.
A solid enterprise LMS should be slick and powerful. It uses an advanced, intuitive interface that is easy to navigate for both trainers and learners.
---
#2. It is not agile enough
Companies move faster these days. Many LMSs organizations use lack the flexibility to provide agile course creation. And if it takes months to translate written materials into the online course, that LMS is hardly viable for enterprise training.
---
#3. It creates duplication of content
Trainers and instructional designers want the content they create to be used across courses and for multiple purposes, without its duplication coming into play.
---
#4. It is unloved
It's sad few employees enjoy the skill building and learning opportunities with LMSs. This is often related to the usability of a platform.
LMSs that go unloved are often unused and unvisited.
---
#5. It sits in a silo
When all of your systems are fragmented, you lose a lot of unnecessary time just doing simple admin. A simple LMS with strong APIs allow for seamless integration with CRMs and other tools.
---
What Trainers Want in Their Enterprise LMS
Lloyd provided some ideas for the things she would like out of her LMS. The top three anyone should consider when reviewing LMS platforms are:
#1. Make Valuable Content Easy to Access & Reusable
An LMS that can make content developed by the L&D team easily accessible is critical. The content should be searchable, so that staff can use it in their daily routine whenever they need assistance. This will save you money, time, and effort while increasing the value of the content created.
---
#2. Ability to Break Training Into Small Chunks 
Look for an LMS that allows for chunk learning. "Learn a little, learn fast, learn often," says Lloyd of learners' desire for chunk learning.
Create playlists so that staff can jump back into learning where they are left off at any time, without having to restart the whole course if they didn't have time to finish it. Keep it out there for re-use whenever needed, and introduce new chunks rapidly as circumstances and needs change.
---
#3. Ways to Reinforce Learning
An LMS that can introduce daily, weekly, monthly quizzes to reinforce learning and identify gaps in team knowledge is a game-changer. The LMS you use should make training recurrences manageable. "Make it fun, not a chore. Incentivize, reward, congratulate."
So… 

Is there an enterprise LMS that can handle all of these demands?
Yes! The Adobe Captivate Prime LMS is ideal for enterprise training – and it succeeds and expands upon many of the fronts Lloyd addressed and eLearning experts crave.
.
---
Adobe Captivate Prime is a powerful LMS that brings a fresh interface and design to the tired SCORM 1.2 enterprise LMS. Extensive functionality resolves all of the frustrations Lloyd mentioned, and the platform meets those aspects she most likes in her preferred platform.
Let's consider some of the dynamics of Adobe Captivate Prime that meet Hayley Lloyd's needs – and those of many in enterprise training.
---
Roll out Training in 90 Minutes
It's not uncommon to see small training teams tasked with educating and upskilling the employees of large companies. Adobe developed Captive Prime to be intuitive and easy-to-use no matter what other resources are available to your team.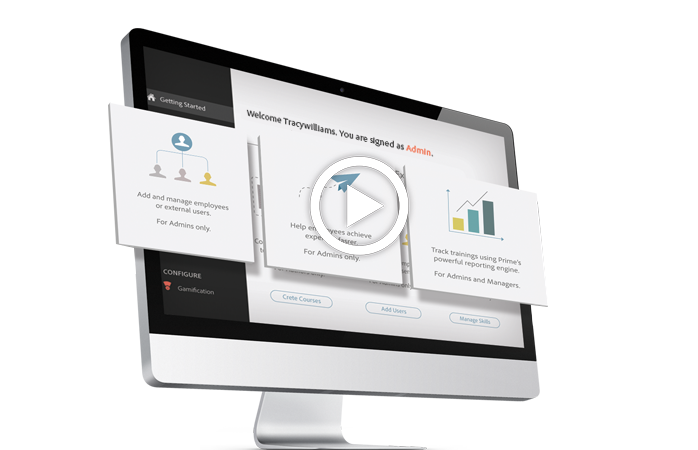 Central to things like quick roll-out is the management of created content. Adobe Captivate Prime provides smooth content-LMS integration, so you don't have to worry about quality compromise on large file size materials. Adobe Captivate Prime also utilizes a built-in LCMS. This functionality makes it simple to store, alter and reuse learning modules. Specific modules can be used in multiple learning paths without causing an issue. Very flexible content management, indeed!
The Adobe Captivate Prime likes to brag to us that every aspect of the LMS within 3 clicks. 3 clicks!?! I thought they were crazy, then I tested it out on my own. Whether I was in the Admin or Learner role, I never needed more than 3 clicks to accomplish anything in Adobe Captivate Prime.
A coveted feature of Adobe Captivate Prime is adaptive bit-rate streaming in the Fluidic Player. Automatically, video is streamed at a quality suitable to your learner's bandwidth constraints. Low bandwidth? The video is optimized. Large bandwidth? The video will be played in full res. It doesn't immediately help roll-out, but the Fluidic Player makes it so much easier for learners to engage with content.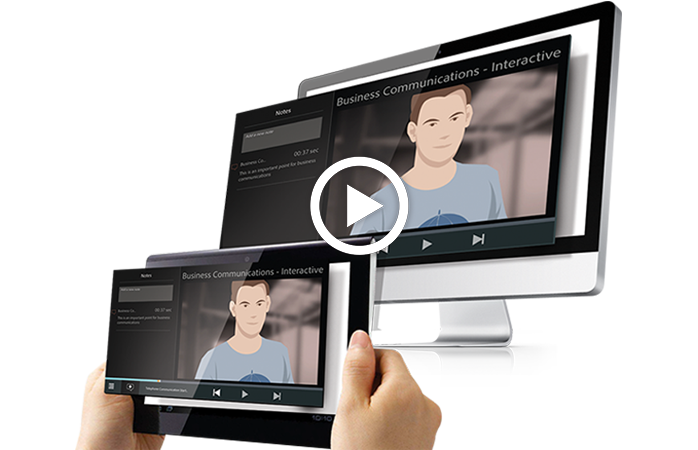 ---
Quick rollout is essential to businesses of all sizes, but for Dan Heick, Director of the Adobe Digital University, Adobe Captivate Prime helped them realize the possibility of training hundreds of thousands.
"Adobe Captivate Prime helps us from an enterprise training perspective for more than 150,000 learners."
---
Automate Admin Tasks
It's been said by many that skills are the new currency. Upskilling teams is one of the best ways to improve productivity and employee motivation. So, trainers' attention shouldn't be wasted on admin tasks.
Adobe Captivate Prime puts trainers in the best position to do their job by automating many admin tasks. Learning activities can be auto-assigned or placed in branched learning modules to ensure employees get the materials they need. It's also quite easy to introduce recurring certifications into learners' programs.
Captivate Prime can also automatically create user groups based on attributes. These cohorts can then be assigned specific learning programs.
Like all good LMSs, Adobe Captivate Prime makes reporting a snap. Reports on learner transcripts and history can be automatically generated, and the setup is easy.
Adobe Captivate Prime eliminates unnecessary time spent on admin tasks and lets teams focusing on training and educating!
---
Increasing Learner Engagement
An LMS is only as good as it is engaging. Learners who don't like an LMS interface aren't as likely to log on for courses. And if the experience isn't rewarding, they are less likely to come back.
Personalized learner homepages provide a unique dashboard for every individual. Customizable, learners can design their own view for course completion and skill attainment. They can also see the badges they earn for completing various activities! Learners can also pick and choose skills they aspire to learn, and the platform will deliver personalized learning recommendations targeting those skills.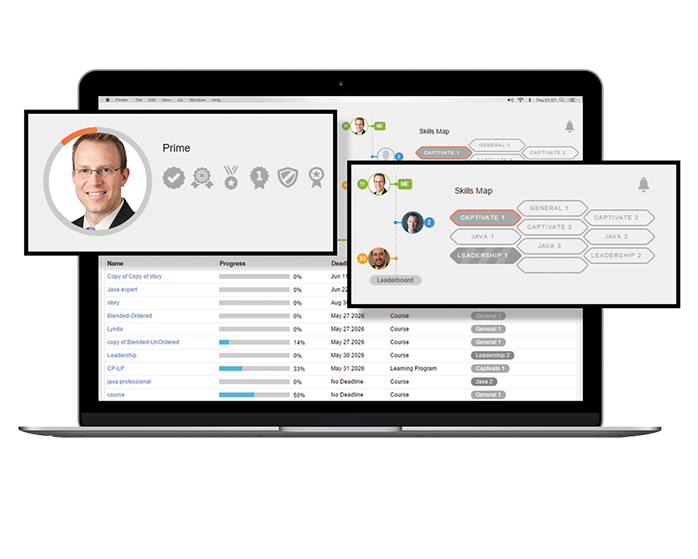 Captivate Prime rolled out social learning functionality that expands upon these dashboards. Discussion boards and the social learning feed make knowledge sharing and skill building something teams can invest in. Talk about making it personal! (Read more about personalized learning in Captivate Prime!)
Captivate Prime offers the ability to include gamification elements with Leaderboards and customizable badges. Reward learners for completing courses first, completing the most courses, and more!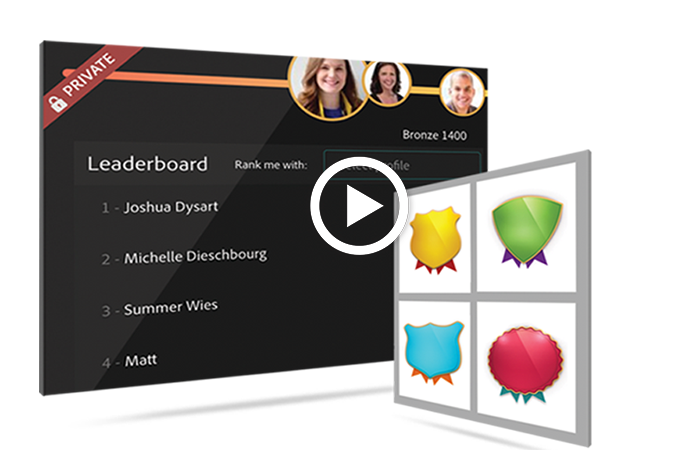 Finally, Adobe Captivate Prime is taking the lead on searchable content. They make it is easy for trainers to upload content or "unlock" it from a learning module, describe it, and then make it available to learners to search. Searchable content is critical to the future of mobile learning!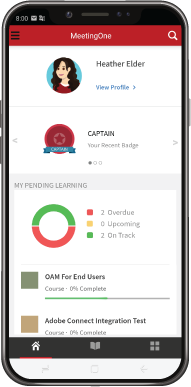 ---
Here's what a big-time Captive Prime user has to say – Hassan Farooqui, Manager of Learning and Enablement for OSL Retail Services:
"Since moving to Adobe Captivate Prime, OSL has increased learner engagement by 250%. We have all seen course completion rate jump from 30% on the previous LMS solution to over 75% on Captivate Prime."
---
Track Learner Progress
ROI and KPIs: The ultimate business metrics duo. And both factor into learning evaluation.
Learner progress often becomes a crucial measurement for the success of entire training programs. These details are often factored into ROI-related decisions. So, they're pretty dang important.
Just about everything a learner does in the Adobe Captivate Prime LMS can be tied back to the development of skills and competencies.
Adobe Captivate Prime LMS enables companies to map the performance of learners using a skills widget. When users complete courses, they can click on the skills map and see how their skill sets have been enhanced.
All of these dynamics help everyone in L&D measure ROI and KPIs with greater ease. 
---
Conclusion
Kick that old LMS to the curb and use the new player to the game that keeps climbing. Here are some of the awards Adobe Captivate Prime has received recently:
G2 just ranked it a Top Leader in the Enterprise LMS space.
The Brandon Hall Group named it the "Best Advance in Learning Management Technology"
eLearning Industry ranked it #1 in the Top 20 Customer Training LMS Vendors
It received CODiE's "Best Corporate / Workforce Learning Management Solution"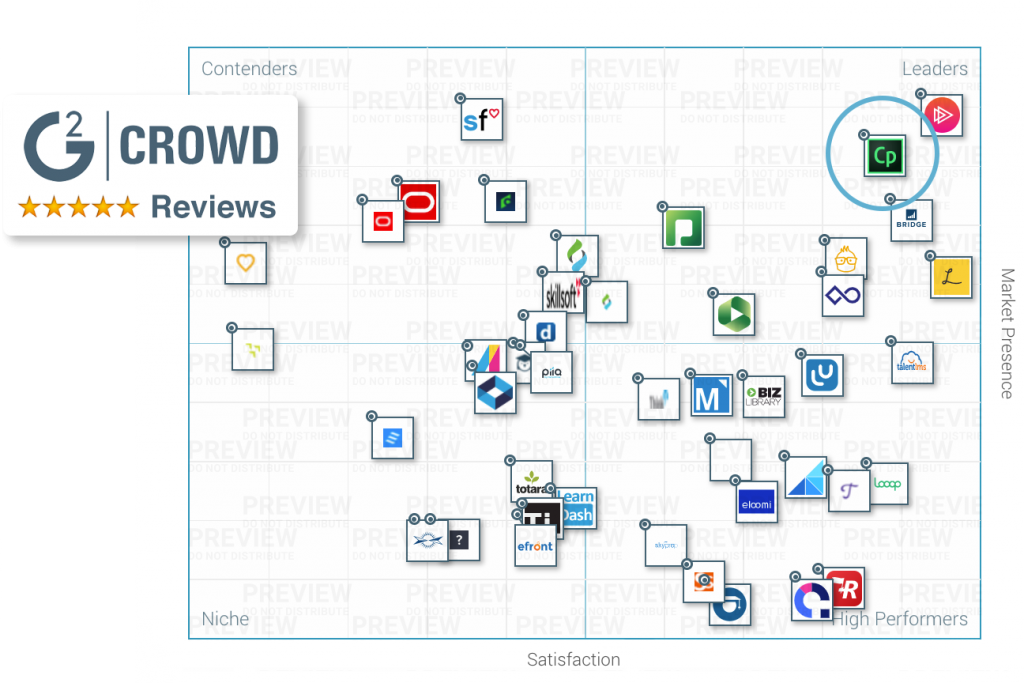 ---
Looking for more details on the Adobe Captivate Prime LMS?
We have all the information you need for the future of your enterprise training!
.
---