---
In the eLearning Guild's white paper, "Five Must-Haves to get Mobile Learning Right," LMS expert Susan Jacobs explored some expectations she has for the future of mobile learning.
Jacobs believes course development now should be mobile-first and always done in HTML 5. Also, she noted that the mobile-first learning focus will emphasize learners' ability to search content. She further writes, "Mobile learning will have less to do with access to courses, and more to do with knowing how to retrieve the exact information you need to do your job."
Is it possible that searchable content can truly make all the difference for mobile learning? Absolutely!
---
Mobile learning is intended to make knowledge accessible to employees at any time. Searchable content epitomizes this idea. It puts the resources people need at their fingertips. One search can ensure a learner gets the answers they seek.
Improving workplace safety, productivity, and employee retention can all be attributed to mobile learning. So, it's worth it!
In this blog, we'll explore strategies for giving learners optimum access to searchable content.
---
Making Content Searchable for Mobile Learning
The Challenges
Too often content is locked away in a course, so to speak. Learners can only get their hands on it by finding the course and then working through it. Nothing wrong with that. But if we're working on the principal of mobile learning, we're better off freeing up that content.
Unfortunately, many LMS platforms make content accessible only in course modules. So, even if a trainer wanted to make some material readily available, they are limited by the platform.
So, we see that quick access to content is a platform-by-platform question. Some will offer such functionality. Some will not.
---
Creating Access
You'd expect that making content searchable would be easy. And it should be. But there are some obstacles. Trainers must be in a position to easily extract, categorize, and label content.
Heres what to consider:
Easy to Extract
As a trainer, nobody wants to spend hours loading content into an LMS and not be able to reuse the content. Content already in the platform should be available. This may mean separating material from a course or redefining content by hyperlinking within the platform.
Easy to Categorize
Within an LMS, you may want to make sure the searchable content you add is well categorized. Aligning these with skills defined in the LMS is a good option. You may also want to consider learner skill levels.
Easy to Identify
Lastly, the content you intend to be searchable must be easy to identify. Kinda obvious. Being searchable depends upon using helpful keywords learners are likely to search. Make sure the platform allows for the following:
---
Adobe Captivate Prime's Approach
Adobe Captivate Prime is the young gun in the LMS field. Even though they've only been around a few years, they're already a Leader in G2's most recent survey. This is because they've taken the ideas of mobile learning, social learning, and on-demand learning seriously.
Adobe Captivate Prime was built to make previously created content easily reusable. That extends to searchable content. And I'll be honest, adding this type of content is simple to manage.
The platform has the easy to use "Job Aid" tool. Available to Admins or Authors in the platform, files can be uploaded or reused. Reused docs will be hyperlinked to.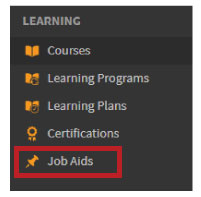 Files can be named and described. Descriptions include up to 8,000 characters, so you won't have to worry about running out of space. They can also be tagged and associated with multiple skills and skill related levels.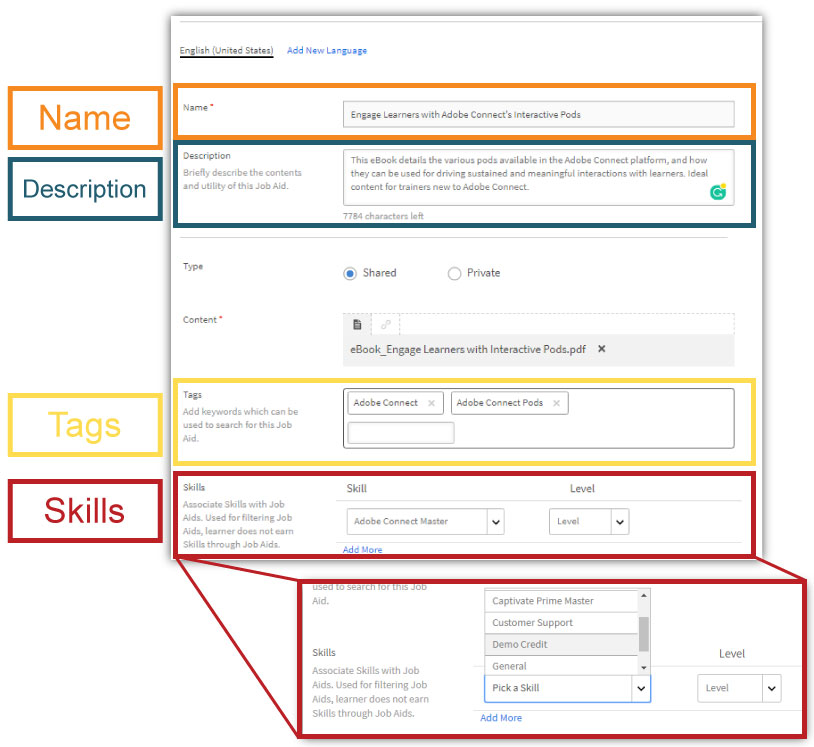 The whole process was so easy, I went ahead and uploaded 5 pieces of content to MeetingOne's Captivate Prime client. Took me all of 10 minutes.
---
How it Looks for Learners
The Search Bar is at the top of the platform in the Learner's view. Filters can be added to searches to narrow results. Course Metadata, Notes, Skills, Badges, or Tags can be used to refine the search.
It wouldn't be fair for me to search my content. Too easy. That said, I know some other docs were uploaded by other authors. Taking a guess, I thought they may have uploaded one of our many security docs. (Security is a big deal for MeetingOne.)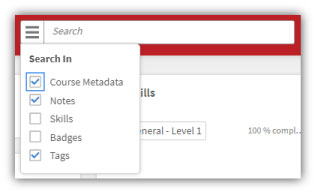 So, I filtered for Course Metadata, Notes, and Tags. Then I searched "Security." Presto! I found a document on Adobe Connect security and a biz comm module another author was developing. (Not familiar with Connect? It's our virtual classroom solution!)
There was no sorting through files or exploring modules. I found these results in about five seconds – and with one search.
---
Can't Deny the Value of Mobile Learning
Empowering mobile learning with searchable content is empowering employees. Experts find that empowered workers will have a positive impact on a company's growth and success.
We also see organizations use "just-in-time mobile learning," as Jacobs describes it, to help new hires keep track of all the information they get. Making info on PTO accessible in the LMS is a good start. (Hint, hint. Wink, wink.)
Making learning content searchable is not a complicated idea. It depends on an LMS being flexible. Not every platform is geared toward this type of accessibility. Adobe Captivate Prime is.
---
Adobe Captivate Prime has been receiving awards left and right! The eLearning Industry just named Captivate Prime a Top 3 LMS for User Experience! That's quite the testament to Adobe's product!
If you'd like to learn more about Captivate Prime, check out our blog that explores how searchable content fits into the broader platform picture.