---
Integration is such a buzzword.
All the best products integrate with each other to work seamlessly and achieve that "perfect user experience." And you hope that every integration you use is going to do the trick. Sometimes, they aren't quite as good as expected.
Here at MeetingOne, we've always taken the user experience seriously.  This is why we developed the best option to integrate audio in Adobe Connect. With this system, you can integrate audio into all your online trainings, meetings and events seamlessly.
In this blog, we're going to explore how MeetingOne integrates audio in Adobe Connect and why it matters.
---
Integrating Audio in Adobe Connect
When we say "integrate audio in Adobe Connect," we're talking about several things.  First of all, audio integration merges components of audio conferencing into your web conferencing virtual room. This brings the high call quality and fidelity of a conference call to your online meetings.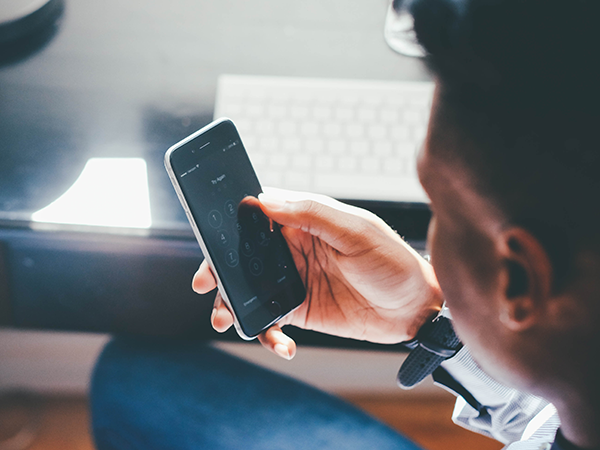 When it's your meeting, AudioOne automatically recognizes you as the host. Which makes for a nice complement to Adobe Connect's instant room access and custom room URL's. Audio integration also ensures that the recordings of your Adobe Connect sessions have high-quality audio.
There is also the introduction of new functionality. This new functionality in your Adobe Connect room gives you better control over the "call" element of your meetings.  For example, integrating audio enables web conferencing hosts to:
Dial-out to participants
Control the volume of everyone on the call
See who is speaking
Mute specific individuals
Seamless integration requires a special audio bridge that can synchronize the voice transmission being routed through PSTN and visual aspects of a virtual room–like the webcam feed and user interactions.  All of this has to be done instantaneously.
---
Now, a number of Adobe Connect's partners give you the ability to integrate audio in Adobe Connect. Avaya, West Corp, and Arkadin all play in this space. The simple fact is that MeetingOne competes and even surpasses these giant corporations. (Visit this page to learn more!)
The simple fact is that it is MeetingOne's audio integration the Adobe Connect team uses in-house. That should tell you everything you need to know!
---
Why integrate audio in Adobe Connect?
Integrating audio brings greater efficiency and ease of use to companies that use web conferencing. Especially when such companies communicate with employees, customers, and prospective clients in virtual rooms.
The basic necessity comes back to the demand for Universal Voice. While Adobe Connect uses VoIP by default, many people using it prefer the option to use their telephones. Adobe Connect audio integrations solve that problem. You get both VoIP and telephony.
What's really nice about our audio integration is that it doesn't put demands on your virtual room visitors. When they enter your Adobe Connect room, a prompt appears that encourages them to have the system dial-out to them. It kills two birds with one stone: They don't have to stress over getting connected, and you don't have to worry about lost conference numbers and PINs!
Keep in mind that audio integration allows you to:
See who is talking in the Attendee pod within Adobe Connect.
Dial-out and join the call. Connect to the meeting instantly through the audio with YOUR phone number.  No dial-in or PIN required!
Silence all participants or an individual with one click.
Record or create audio and web recordings.
Use breakout rooms not only in Adobe Connect but also on your audio conference line.
Use both VOIP and audio conferencing at the same time.
---
Now, let's take a look at MeetingOne's audio integration for Adobe Connect.
---
MeetingOne's Audio Integration in Action 
Let's start by looking at our very intuitive prompt. Participants will be encouraged to Dial-out to their phone. All they have to do is input their number. (International callers will have to change the country code, of course.) Once they do, the system calls them and connects them to the room! Dial-out is convenient and fast.
If participants don't want the system to Dial-out, there is the Dial-in option. Participants who go with this option will be provided a number they can call that connects everyone to the conference.
---
Beside the benefit of Universal Voice, you will appreciate the icons our integration populates in the Attendee Pod. You can see who's joined or connecting. You can also tell who's muted or unmuted.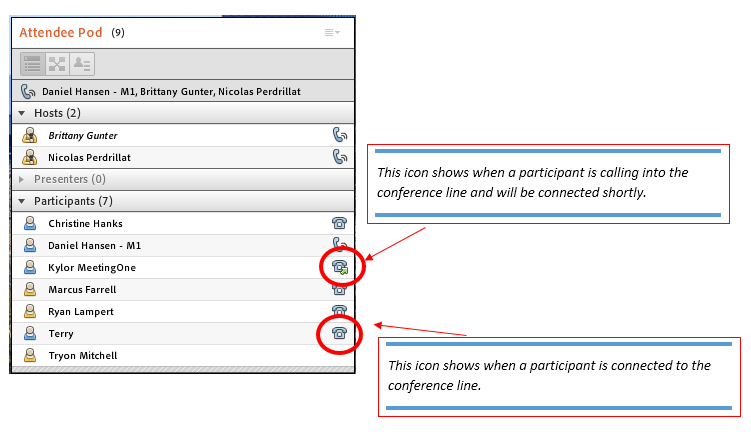 ---
One of the challenges of VoIP in Adobe Connect is that you can't see who's talking. Our integration both displays the names of who is talking and changes the speaker's icon. See the picture below.
The visual icon makes it much easier to ID noisy participants and mute their line. From there, you just right click on them and a menu will appear providing you the option to mute them.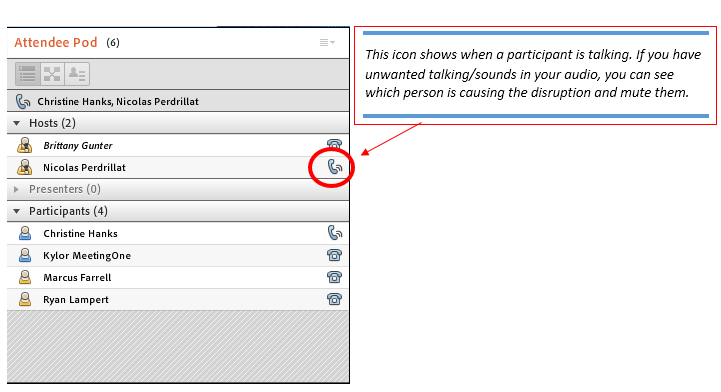 ---
The audio integration also works in Adobe Connect breakout rooms. This is a big deal. Breakout rooms are great for group work and collaboration. So, it's important audio flows between the main room and the breakouts without interruption. And ours does!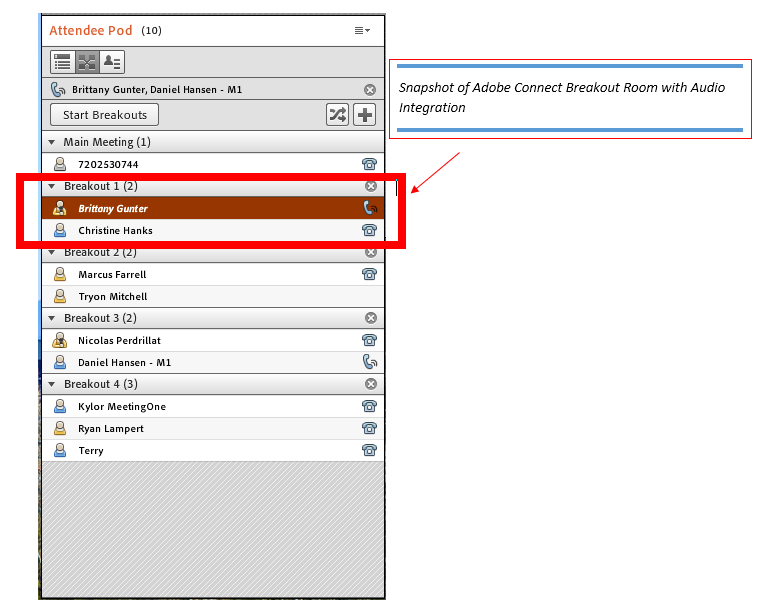 .
---
How to integrate audio in Adobe Connect
If you already have Adobe Connect & MeetingOne's audio integration, the setup is very simple. You can do it in 3 easy steps!
Step 1: Enabling Integration 
To begin, have an Administrator with the required Adobe Connect credentials log into Connect Central to enable MeetingOne's Audio Integration telephony adapter.  After logging in, they will navigate to Administration > Audio Providers, highlight MeetingOne NA, and then click Edit.
This is the only Step you will need an Administrator for.  Once the Integration is enabled, a Meeting Host will not have to repeat this step.
After clicking Edit, select Enabled, and then Save.


MeetingOne audio is now available on your Connect account!
We take care of this step for you when you trial Adobe Connect with MeetingOne.
---
Step 2: Create a Profile 
Anyone wanting to use AudioOne in a Connect Meeting will need to create an audio profile for themselves.
Once logged into Adobe Connect, navigate to My Profile > My Audio Profiles, and select New Profile.


Using your assigned MeetingOne room information, complete the required fields. You can name the profile whatever you'd like; the easier to remember, the better.
Your audio profile is created.
If you're unable to save your profile, that means either your room number or host access code are incorrect. You can find the correct information in the welcome email you received from MeetingOne initially.
---
Step 3: Associate Your Profile in Connect 
Now you'll need to include the profile just created in a new or existing Connect Meeting.
If you already have an existing Connect Meeting, locate the Meeting in your Meeting List and edit it to include your audio profile.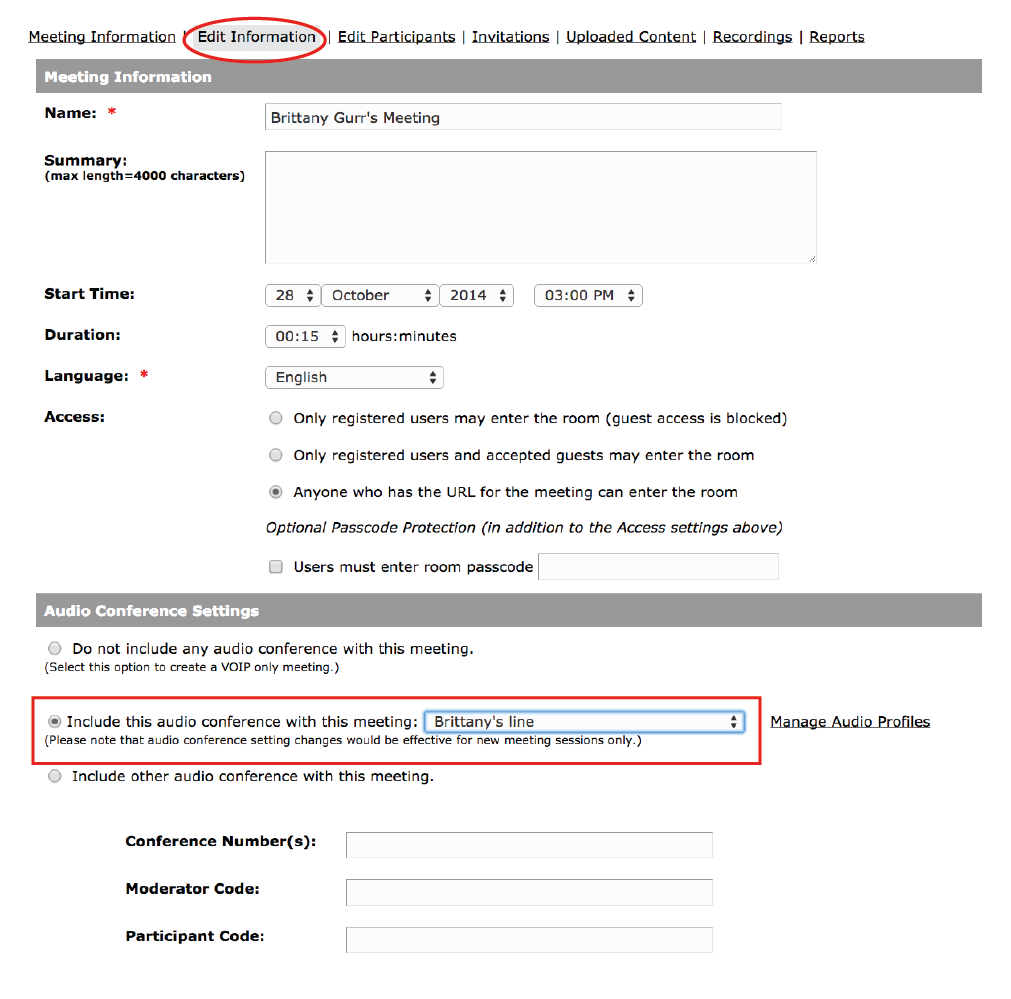 (Don't worry about the three fields below the radial button.)
If you're creating a new Connect Meeting, the radial will automatically be selected for you. Adobe Connect assumes that if you've created an audio profile, you'll want to use it! Don't worry if you've created two or more profiles. It's easy to select between them.
---
If you want someone to walk you through it in 2 minutes, feel free to give our Customer Support team a call at 1.888.523.8445.
Get your integration setup soon to enjoy the benefits every time you use an Adobe Connect room.
---
Make Sure You Integrate Audio in Adobe Connect
Be sure to always integrate audio in Adobe Connect. For every meeting, training and event. Your online participants will appreciate the enhanced audio quality! And you will enjoy the greater control to manage who is talking.
Integrating audio in Adobe Connect is easy and beneficial. The end result is a streamlined user and host experience. You'll love the in-session audio controls for delivering flawless online sessions!
---
Interested in MeetingOne's audio integration for Adobe Connect? Learn more here!