By empowering users to host a strictly controlled and engaging online meeting, Click&Meet is the perfect audio companion for Adobe Connect. Its easy-to-use host settings, high-quality audio, and intuitive interface make it an obvious choice for industry-leading businesses hosting audio calls, online training sessions, and even large webinars.
We're happy to announce that an update of Click&Meet is on the way. The features in the newest version of Click&Meet Pro Producer will improve all our users' virtual audio experience by putting even more control in hosts' hands and keeping participants more engaged! Let's take a look at how the enhanced features can set your online meeting hosts up for success.
Easily chat with individuals and the whole group
One of the most exciting new features of Click&Meet Pro Producer is the peer-to-peer and group chat function.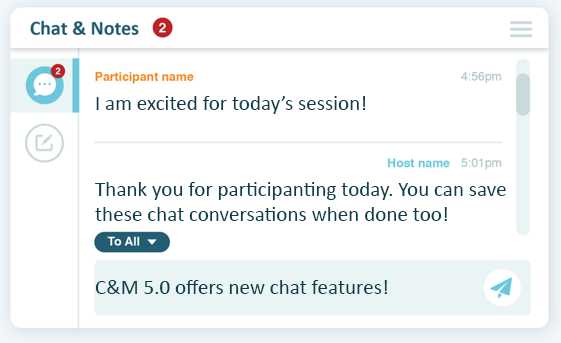 Did you know Google Meet doesn't let you chat privately with other users? Pro Producer allows users to privately message individuals or send out mass chats to the entire room. Now message your presenters or trainers privately, so they are always prepared during events.
Peer-to-peer and group chat also help keep users engaged throughout your virtual meeting—a crucial aspect of running a successful online event.
Are you planning on hosting a Q&A session during your online meeting? It'll be a breeze thanks to our chat functionality. Users can send the presenter a chat with a direct question or pose a question to the entire room. Whether you're hosting a meeting with a smaller group or using Click&Meet Pro Producer for your large webinar, the new chat function will elevate your online experience.
Download your chats and notes for future reference
Taking and retaining notes helps ensure attendees get the most out of an online event. In the latest edition of Pro Producer, you can take notes and download them in just a click! All participants can download their personal notes or chat conversations in a plain text (TXT) file. Unlike some other platforms, no extra browser extension or additional app is required to export your notes.
All downloaded meeting notes and chat conversations are also time-stamped, so memorializing your meeting is effortless.
Click&Meet makes it easy to see who's talking, manage speakers, conduct activities, and deliver professional audio experiences with Click&Meet's intuitive interface.
Share your meeting notes with the whole company
It's unrealistic to think every employee can attend every meeting. That's no big deal if you're using Click&Meet Pro Producer to host your online events! Once notes are downloaded, you can share them with any individual or team in that same plain text format.
Since the notes are already in plain text, no styling or re-formatting is needed. This feature will be beneficial for developers and technical writers who prefer plain-text files and don't want to mess with re-formatting rich text.
Quickly get your virtual meetings started with persistent directories
You've been able to dial out to participants using Click&Meet's directory feature for a while now. Better yet, unlike Cisco WebEx and other competitors, dialing out using your directory is free with Click&Meet ProProducer! Our team has been hard at work making directories even better than before.
Using our persistent directories, hosts can now dial out to their teams and attendees with just one click and email group members with the direct link to join the meeting as participants. With a faster and simpler start process, your meetings can be both more productive and less time-consuming.
Creating groups within your directory is also now seamless. All hosts need to do is drag and drop individuals into their desired groups. You can also use our provided Excel template to quickly upload your contacts to your Click&Meet directory. This functionality makes it even easier for hosts to get the meeting set up before the event begins.
Take control of your online meetings with enhanced muting options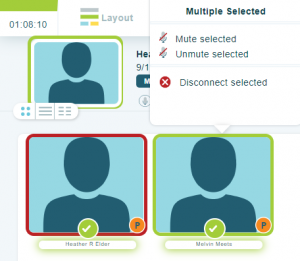 From participants holding side conversations to dogs barking in the background, virtual meetings can quickly get out of hand. Those distractions don't just cause frustration for hosts and participants, but they also lead to a less productive meeting and a waste of time for everyone involved.
Those distractions are a thing of the past when hosts use Click&Meet Pro Producer! With our enhanced muting functionality, hosts and presenters can easily see which participants or groups are making noise and mute them with one click.
Don't let connectivity issues hinder your online meeting
Click&Meet Pro Producer allows users to join the online meeting via Voice over Internet Protocol (VoIP) or their telephones. These connectivity options allow for a more flexible and collaborative virtual meeting. However, when VoIP connections are weak or unreliable, meetings get less productive and more frustrating for other participants.
With Click&Meet Pro Producer, hosts can address weak VoIP connections by removing individuals from the meeting and asking them to reconnect via telephone. Since individuals each have a VoIP or telephony icon associated with their avatar, it's easy for hosts to see how participants are connected to the meeting room.
Get the most out of online meetings with sub-conference rooms
Small group breakout sessions increase the effectiveness of in-person meetings, training sessions, and events by fostering thoughtful conversations. The sub-conference rooms in Click&Meet Pro Producer ensure those breakout sessions aren't lost when you take your meeting online.
Pro Producer allows users to create up to 20 sub-conference rooms for each virtual event. Simply drag and drop attendees into the sub-conference rooms and let them talk amongst themselves.
Hosts aren't left out of the conversations in the sub-conference rooms—they can pop in and out of the different rooms with no trouble at all. If hosts want to see what attendees are discussing in the sub-conference rooms, all they need to do is drag and drop their avatar into the chosen room.

Additionally, Click&Meet Pro Producer's sub-conference rooms allow VoIP and telephony users to collaborate in the same sub-conference room. Along with ensuring total collaboration across all participants, this unique feature differentiates Click&Meet from our competitors.
Would you like to record the sub-conference room conversations for future review? No problem—it's easy, and it's included in Click&Meet Pro Producer! Simply toggle the record option on before your online meeting starts, and you can record all 20 sub-conference rooms simultaneously. As long as hosts enable the recording feature prior to the meeting, users have up to 30 days to download their recordings after the event has concluded.
Set and save your language preference with ease
Although Click&Meet Pro Producer can't teach you a new language, it does allow users to choose between English, French, and Dutch language options. Once your language preference has been selected, save it for all of your future online meetings! The ability to save your language preference makes it easy for hosts to get meetings up and running in a matter of minutes.
---
Sign up for a free trial and take back control of your online meeting with Click&Meet Pro Producer!
Ask yourself, are you getting the most out of your virtual meetings? Ensure you are by upgrading to Click&Meet Pro Producer today! Sign up for a free trial to see for yourself how the new features can elevate your virtual meeting experience.
Want to learn more about Click&Meet or MeetingOne's other products and services? Drop us a line or follow us on Facebook, Twitter, and LinkedIn to stay up to date with the latest MeetingOne news.