---
The users have spoken! Among many platforms, Adobe Connect stands above the other Leaders in G2's Webinar category. Reviewers gave Adobe Connect webinars an impressive 4.1 out of 5 stars.
No small award, we're thrilled to share this news about Adobe Connect webinars. Adobe has long worked to give its users the best possible experience. Full room customization and persistency, a robust feature set, and advanced reporting on the admin side have put users in the best position to host impactful webinars!
What did the users say? We explore the G2 report in this blog!
---
G2 Methodology
G2 built their reputation by handing out rankings based on the "voice of real software users, rather than the subjective opinion of one analyst."
G2 primarily pulls on the satisfaction ratings of users.
Customer satisfaction with end user-focused product attributes based on user reviews
Popularity and statistical significance based on the number of reviews received by G2
The quality of reviews received (reviews that are more thoroughly completed will be weighted more heavily)
Age of reviews (more-recent reviews provide relevant and up-to-date information that is reflective of the current state of a product)
Customers' satisfaction with administration-specific product attributes based on user reviews
Overall customer satisfaction and Net Promoter Score® (NPS) based on ratings by G2 users
The other area of serious consideration for G2 is Market Presence. G2's Market Presence score pulls on a combination of 15 different metrics. Not only does Adobe Connect stand out in the Enterprise segment, but they also have the largest market presence among all webinar vendors.
---
Important Rankings
G2 reports Adobe Connect having the largest Market Presence among products in Webinar. Here are some other key metrics to consider:
94% of users

appreciate the ease of doing business with Adobe Connect.
85% of users agreed that Adobe Connect is easy to use.
83% of users also enjoyed the ease of administration in Adobe Connect.
More than 80% believe Adobe Connect is headed in the right direction.
8 out of 10 users would recommend Adobe Connect to industry peers and colleagues!
G2 ratings for Adobe Connect Webinars User Satisfaction

Adobe Connect webinars scored 85%-90% in user satisfaction in all key evaluation criterion:
Host Tools – Complete Room Customization, Presenter-Only Area, Recordings, Prepare Mode, Custom Registration Pages & Emails
Attendee Tools – Simple registration, Attendee live chat, Polls & Surveys, Q&A
Post-Event Tools – Event Analytics, Attendee reports, Conversion Funnel
Integrations – Social Media Integrations and Software Integrations
---
What Adobe Connect Webinar Users Say
Users love Adobe Connect! Whether it's the immersive experience or powerful engagement features, users around the globe rave about the opportunities Adobe Connect offers. (All of the below quotes were initially posted on G2. View all of the Adobe Connect user reviews.")
"[I]ts presentation and all the options it has make it one of the most elegant and impeccable software on the market today." – Demberly C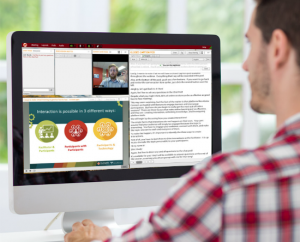 "There are so many different options and settings, you literally can customize your own perfect event." – Lisa L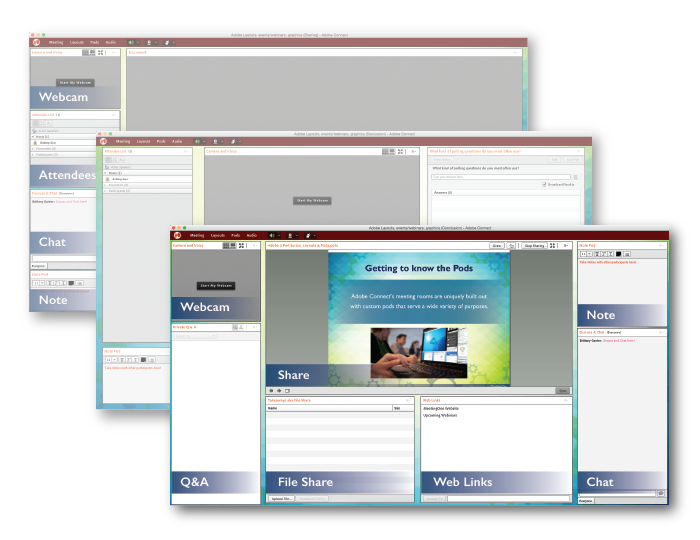 "It has very complete features that can ensure dynamic participation." – Lorena S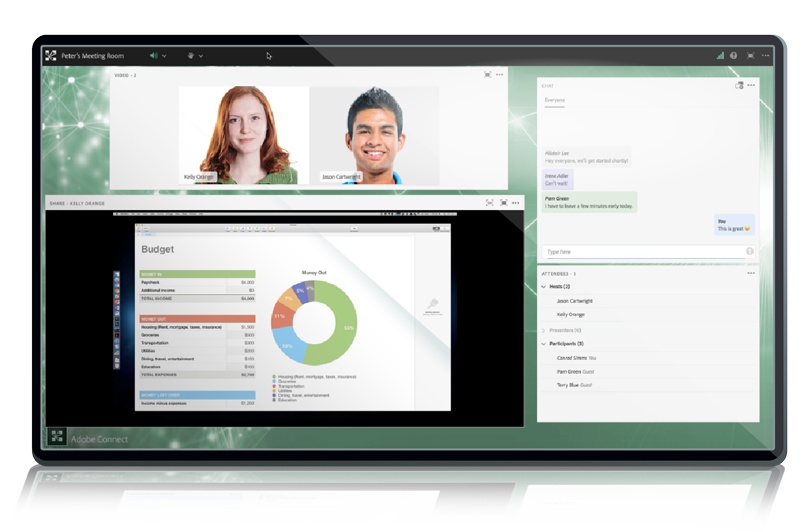 ---