---
Across the globe, thousands of Training Managers, L&D Specialists, and Trainers have provided their input on the top virtual classroom platforms. And we're proud to share that out of 23 competitors considered by G2, Adobe Connect provides its users the highest level of satisfaction!
This is exciting news for Adobe Connect virtual classrooms. Adobe has long worked to give its users the best possible experience. And that effort is paying off!
Adobe Connect puts users in the best position to deliver effective virtual training:
Full room customization and persistency
A robust feature set
Room templatization
Unlimited storage
Users depend upon these aspects of the platform to do their job successfully.
What did the users say? We explore the G2 report in this blog!
---
G2 Methodology
G2 built up their reputation by handing out rankings based on the "voice of real software users, rather than the subjective opinion of one analyst."
G2 primarily pulls on the satisfaction ratings of users.
Customer satisfaction with end user-focused product attributes based on user reviews
Popularity and statistical significance based on the number of reviews received by G2
Quality of reviews received (reviews that are more thoroughly completed will be weighted more heavily)
Age of reviews (more-recent reviews provide relevant and up-to-date information that is reflective of the current state of a product)
Customers' satisfaction with administration-specific product attributes based on user reviews
Overall customer satisfaction and Net Promoter Score® (NPS) based on ratings by G2 users
The other area of serious consideration for G2 is Market Presence. G2's Market Presence score pulls on a combination of 15 different metrics. Among competitors in the Enterprise segment, Adobe Connect has the most extensive market presence.
---
---
Important Rankings
G2 reports Adobe Connect has the most extensive Market Presence among products in the Virtual Classroom segment.
86% of users found Adobe Connect easy to use

85%

of users said it was easy to administer

83%

of users rated it 4 of 5 stars
More than 80% believe it is headed in the right direction

8 out of 10 users

would recommend Adobe Connect to industry peers and colleagues
G2 ratings for the Top Adobe Connect Virtual Classroom Features

Users are particularly fond of many features within Adobe Connect:
Engagement monitoring with the dynamic Engagement Dashboard
Full room customization and a high degree of brand-ability
Persistent room layouts and content
Ability to templatize rooms for use in various courses
Intuitive backstage tools for hosts to track engagement, chat with each other, and manage participants
Users also appreciate the larger digital training solution around Connect:
Learning Management System (LMS) integrations with Adobe Captivate Prime or users' existing LMS.
Easy access to quizzes, interactions, and simulations using the Adobe Captivate authoring tool.
---
What the Users Say
Users love Adobe Connect! Whether it's the immersive experience or powerful engagement features, users around the globe rave about the opportunities Adobe Connect offers. (All of the below quotes were initially posted on G2. View all of the Adobe Connect user reviews.")
"Love the interactive features, such as polling, whiteboards, video capability, and breakout features. This makes for an engaged large training audience rather than simply clicking through slides." – Tyler M
"Adobe Connect is excellent for providing a reliable experience for large online events. Nice learner engagement features. We like Adobe Connect's breakout room functionality. also love the ability to support multiple room layouts and store hundreds of content pieces." – William N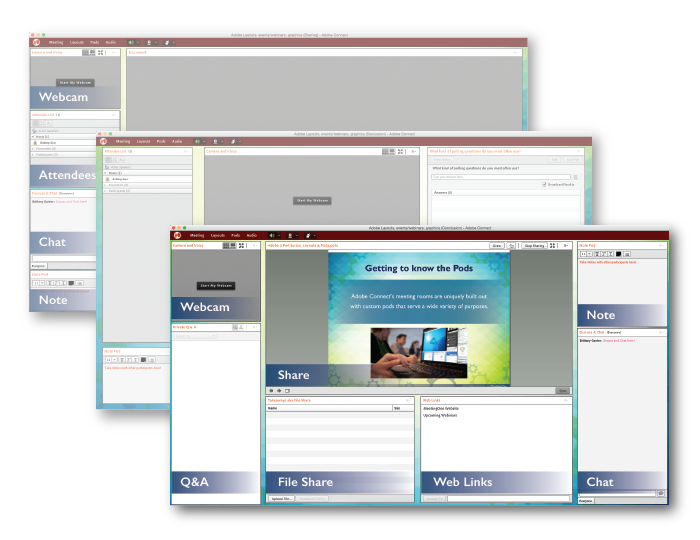 "Personally, I think it is the best service that covers the need to offer training or share information with large groups in a large area, simultaneously. It is a really amazing recording tool and it is completely customizable." – Eduardo O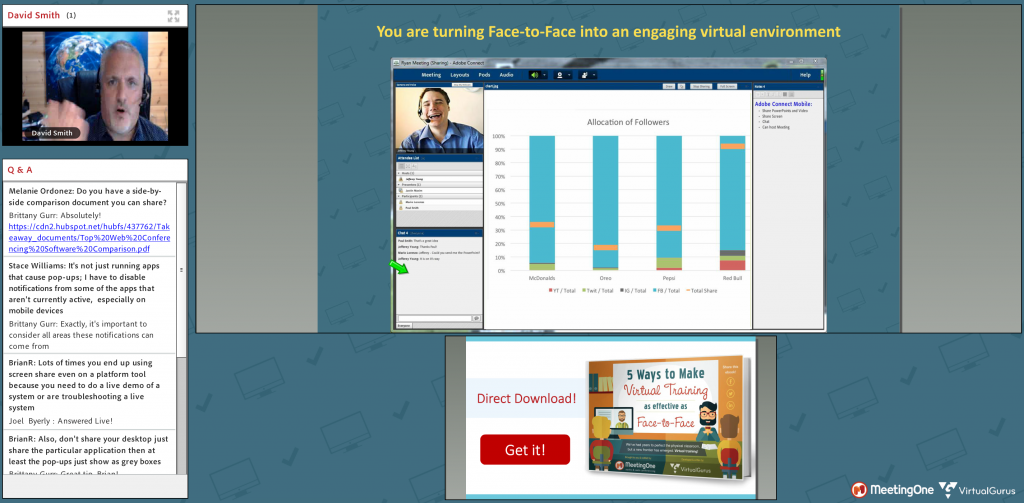 ---