---
Going into a new decade, we're eager to embrace the changes that will come as technologies advance and customer needs change.  Wherever our customer's needs for communication and collaboration go, we plan to be there to provide the best solutions in the industry.
In this blog, we want to reflect on the year past – and share a few exciting notes about what it is to come!
---
2019: A Year in Review
A Letter from MeetingOne's CEO, Sophie Lal: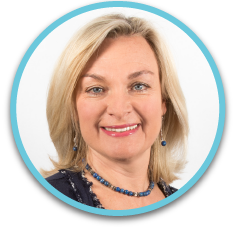 Big ideas understood. That was our mantra entering 2019. Our single phrase that captured how the MeetingOne team and product line collectively achieved our customers' goals and long-term success.
Looking back at 2019, my pride in all the individuals who make MeetingOne exceptional could not be greater. Through the years, I have seen them meet each new challenge head-on and strive to build and strengthen the trust of our customers. In 2019, I had the pleasure of seeing my team's dream realized as we took our products and customer success to a truly remarkable level, together.
In 2019, "Big ideas understood" became not just a mantra but a way of life at MeetingOne. We turned our customers'  ideas into realities that have taken our products and services to new heights of innovation. We spent a great deal of time evaluating our services and support, our products, and our solutions to make impactful changes and new opportunities for our customers.
In this special blog, we'll look at some of the initiatives we made to serve our clients better:
Expanding our Customer Success Program
Providing new self-help options
Updating and expanding our offerings
Growing our team and adding talent
As the CEO of MeetingOne, I am proud of my team and their tireless efforts to continue innovating our products, services, and support for our customers. We've continued expanding our solution-based approaches to help clients get the products and services they need – but don't think we're done!
Here's to our customers! Let's make the new year – and decade – incredible!
Sincerely,
---
MeetingOne's 2019 Updates Elevating Customer Experience

In the following sections, we'll explore the updates we made to serve our customers better.
---
Expanding MeetingOne's Customer Success Program
Our Customer Success Program has been in place since 2016. Our team has since been working diligently to create new support assets, develop and expand the Program, and begin personalized touch-points. Our Customer Success Program brought our customer base a "white glove" experience. 
The program involves 4 steps:
Discovery Call: We talk with you to understand your needs.
Onboarding: We help you put a plan in place to make you successful.
Training: We teach you how to use the various systems we sell.
Continued Education: We follow up and share resources to ensure you continue ahead on a successful path.
---
While the Program was producing excellent outcomes, the Success Team realized more could be done.
Starting late last year, our Customer Success Team began regular touchpoints with every account. That's right – every account.
This approach has allowed our Success team to make sure our customers are on the right track with a good handle on our products, no matter their level of experience. Making these connections has shown our customers that they can come to us with questions at any time.
For those folks who could utilize more advanced technical support, we've built up our team of Customer Success Account Managers to be there for more hands-on needs.
Get more information about our Customer Success Program here!
---
Ask the Experts
Last year the Customer Success Team also launched a new webinar series: "Ask the Expert."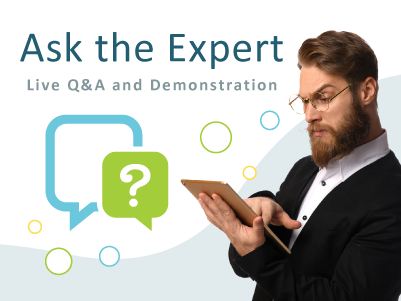 Every "Ask the Expert" session, our Success Team goes over the basics of our platform and answers questions. (Check out our webinar catalog to join the next "Ask the Expert" session.)
It's a great session for customers new to the platform and need some input – but don't need a one-on-one training session. With our Team already touching base early on, we're finding that the "Ask the Expert" webinars provide the right complement for many new customers.
---
New Self-Help Options
We see our website as a powerful medium to educate and support our customers. We offer an expansive content library loaded with eBooks & webinars. Our blog puts out helpful articles. And our support pages are filled with how-tos, videos, and best practices – and that information is available to everyone!
To add even more Self-Help options, our team opened up two new tools: The MeetingOne Chatbot and Knowledge Base.
---
Chatbot
When people visit our website, we want them to find the information they need quickly, no matter the time of day. So, we implemented a chatbot to help automate self-help options.
The MeetingOne Chatbot, MO-Bot, offers one of the most robust live chat solutions on the market. We developed chat flows that offered educational tips to our visitors while still helping them find the answers they need. We have team members on-hand 8 am – 5 pm MT to answer questions as they arise, too. The chat serves both existing customers looking for support resources and new visitors to the site.
After being live for several months, we're finding visitors are better able to navigate our site and get the assistance they need quickly.

Say hello to MO-Bot the next time you visit our website! Chat is accessible in the bottom right corner of your screen.
---
The MeetingOne Knowledge Base
We've worked for many years trying to make support assets and content easy to find on our website. Updates to the menu, new support pages, and Chat helped on this front.
Our Customer Success Team envisions a library to help content that could easily be searched and browsed by our customers. Thus, the idea for MeetingOne's Knowledge Base was born.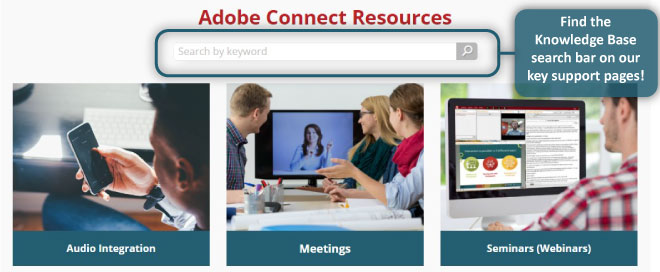 The MeetingOne Knowledge Base allowed the Success Team to load all of our support assets into one, searchable area.
When you use the search bar on our support pages, you'll be directed to specific & helpful documents. Give it a try today!
---
Support Page Reorganizations
Beyond the addition of the search bars, we updated our support pages to be easier to use and navigate.
We revisited our support pages to enhance and optimize for customer browsing. Today, you will find focused categories combining assets into a logical grouping. All assets relevant to a topic or role are located together.
We believe this approach makes it easier for customers to locate the information they need.
---
Exciting New Offerings
Updates to Click&Meet
We've spent the last two years making significant enhancements to our call management interface, Click&Meet. This desktop application for call control is now more intuitive than ever before. Greater functionality is available in every feature set.
When looking at the new platform, here are some other impressive metrics:
45% of the total features in the platform are new
35% of the total features have been enhanced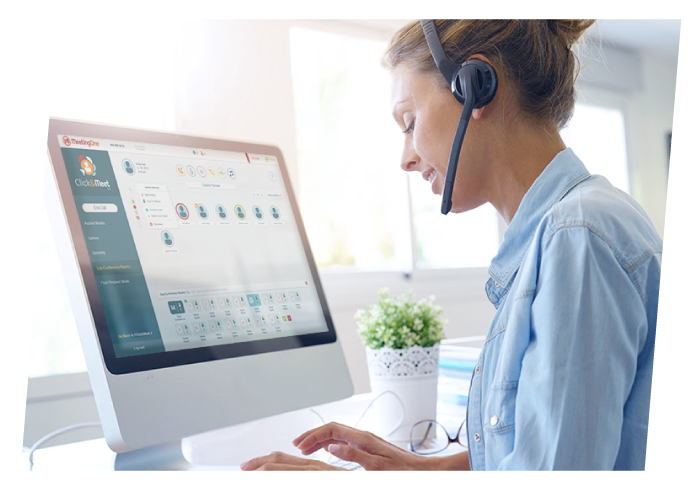 Those enhancements have been significant. The experience within Click&Meet compared to even 2018 is significantly more robust. There have been so many improvements to the platform throughout 2019, it would take an entire blog to cover them. Here some of the most exciting feature enhancement examples:
Opening Sub-Conference Rooms: Easily set the number of rooms that will open now before launching. Users can also easily assign participants to certain rooms based on pre-defined conditions. Overall, these updates make the transition between the main conversation and group breakouts much more fluid.
Access Modes: Click&Meet offers robust security options for calls. Over the last year, we've improved the flow to make it easier for users to choose between: Locked, Access Codes, Screened and Delayed.
Directory: Contact management and dial-out placement have never been easier! The 2019 updates made to Click&Meet put users in a better position to add contacts and more efficiently manage those who exist.
All of the new features will surely improve users' calls. Let's take a look at a few select NEW feature examples:
Speaker Role: New role within Click&Meet that allows hosts to distinguish between average participants and those who will be expected to contribute. The speaker role can be set before calls from the Directory or during a call. All that is required is toggling the Speaker / Participant icon!
Sort & Filter: Quickly sort or filter contacts by talking status or role. Hosts can quickly find their speakers and anchor them to the top of their "Participant Views." Very handy for big calls!
Directory Sorting: Easily sort and filter contacts by Name, Role, or Access. Complements the existing search feature well.
Group Assignment: We expanded the functionality within the Directory to make it quite easy to assign users to groups, and then manage those groups before, during, and after calls efficiently. Groups can be enabled, so they are the only ones who can join a call – which is a great security tool for certain organizations!
We're confident that users new and old will find Click&Meet incredibly valuable when conducting important calls where a professional experience for callers matters most.
---
We also introduced Click&Meet into a new space: Adobe Connect online events. Whether it's a webinar, all-hands virtual business meeting, or virtual training, we've found customers are more likely to put on a professional event in Connect if they have a better option to manage audio. Click&Meet meets that need.
The new offering makes Click&Meet available account-wide for a reasonable cost. Adding Click&Meet means Meeting Hosts and Event Managers alike can lean on improved audio controls while conducting their events inside Adobe Connect rooms.
Click&Meet is the best side-by-side tool for Adobe Connect for desktop call control.