Why are so many people obsessing about gamification in online trainings? 
Short answer:
Because it's awesome.
Long answer: Video games are important to our society.  Between all the gaming apps and gamer communities, the Entertainment Software Association recently suggested that upward of 150 million Americans play video games on a frequent basis.  The fact is that for three generations now, video games have been a daily activity for millions of people.  Tapping into people's love of video games for training purposes is just logical.

Video games make use of all the senses during play, which can increase retention of information.  And in many studies, there has been evidence to suggest that gamification can motivate behavioral changes that encourage positive learning experiences and further engagement.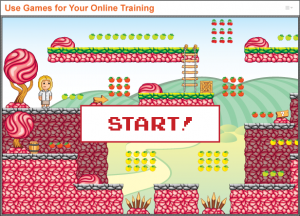 In the world of gamification, many businesses focus on the on-demand side.  That is, they construct online courses that use games to guide their employees through the information they want them to learn.  Being "on-demand", the courses are self-paced and completed in increments. For some successful examples of on-demand trainings, check out Asha Pandey's blog post, "6 Killer Examples of Gamification in eLearning."

On-demand online training is one thing.
What about live online trainings?  How do you get the value of gamification in live online trainings?
---
Making the Most of Gamification in Live Online Trainings
To make the most of gamification in live online trainings, you have to turn to SWF files.  SWFs are files with some level of interactivity and animation – basically a step down from Apps.  Arising out of Adobe Flash, it's easy to plug SWFs into your Adobe Connect rooms.  Using these files, you encourage fun and engagement during your trainings.
Even with SWF files, gamification is still suspect to gimmicky situations during live online trainings, where games are used, basically, as entertainment.  The trick is to find games that suit your purposes well – puzzles to lead conversations about problem solving, brain games that encourage ingenuity, and so on.
There are a few insider tips we would like to share with you, though, to make your process easier!
---
Requirements for Using SWF Files in Adobe Connect

Where to Download:
The best place to start is at Adobe Connect's App site.  As you will find, there are numerous trivia games that can be purposed to your needs.  The EduGame Cloud, specifically, allows you to run games and tests to check for information retention.  The reports generated after using the EduGame Cloud are also very important for the assessment process.
If you are looking for a few more casual games, a good place to download SWF games is Crazy Monkey Games.com, as they allow you to download hundreds of games for free.  You are also permitted by Crazy Monkey to host their games in your Adobe Connect room and on your website with no repercussions.  Additionally, they provide you some instruction to guide you through the download process.
---
Size Requirements:
As you may be aware, there is a 1GB limit to files you can upload to Adobe Connect.  Fortunately, most SWF files are far smaller than the 1GB cap.  That said, we have had greater success uploading games into Adobe Connect rooms that are less than 1,000 KB.  To share the games in online training, all you have to do is upload them in a Share Pod (sharing them as a document will work).
---
Other Factors:
SWF files are not mobile compatible at this time.  If you anticipate that many of your trainees will be participating through a mobile device, you may want to reconsider how and when you use games during your live online trainings.
For an enjoyable example of how we made the most of an SWF game, check out our webinar, "Why I Choose Adobe Connect for Webinars."  You'll have to fast forward to 9:55, where we used a "reaction game" to discuss how low energy can affect a webinar.  (P.S. You can play the game while you listen.)  Click the button at the end of the blog to download the game!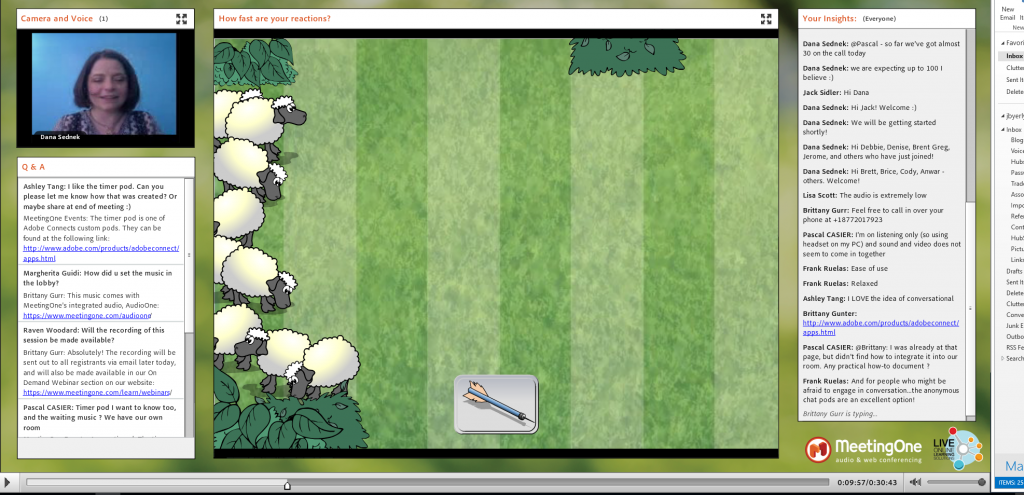 Getting the Value Out of Gamification
Let the games begin!  As long as your approach to including games is grounded in the skills and knowledge trainings are intended to provide, gamification can be a fun way to liven up your sessions.  When you've succeeded in this way, the inherent value of gamification will be obvious.  After testing certain games in your trainings, the next step is to develop games specific to your online training purposes.
For other ideas on how to develop a more interactive online training environment, check out our eBook, "Engage Learners with Adobe Connect's Interactive Pods."
As a special gift from MeetingOne, we have some fun examples of Crazy Monkey games you can use and download right now!  The first game is the above reference Sleep Sheep Reaction Game.  The second game is a quality Eye-Hand Coordination Game – "Link-a-Ball".  The last option drives Attention and Focus – "360 Catcher".
Follow these steps to appropriately upload them to your Adobe Connect room: Click on the Image.  This should take you to another tab.  Once in the new tab, left click "Click to Download."  The game should now be in your "Downloads" file.  For instructions on how to upload the game into your Adobe Connect room, follow Adobe's instructions.
---